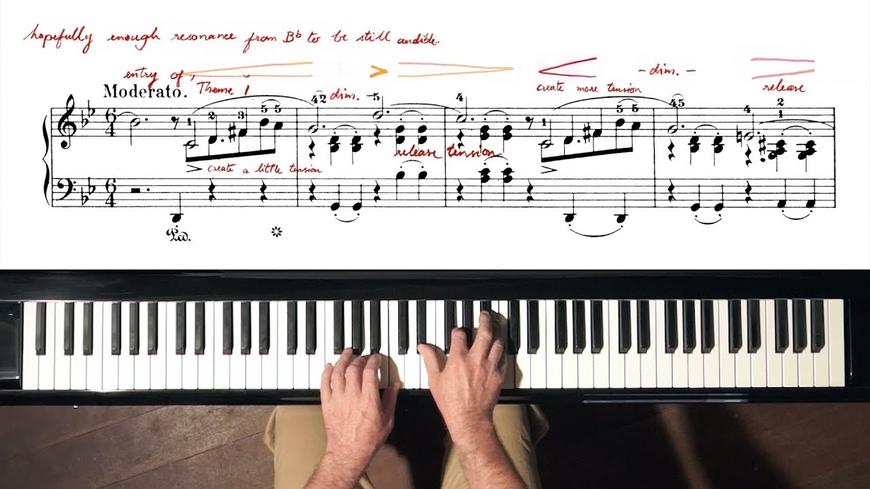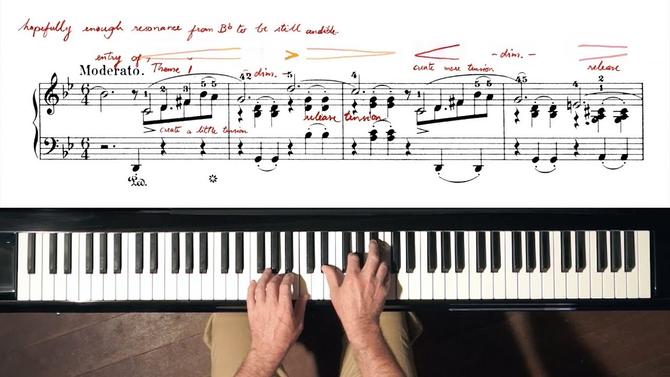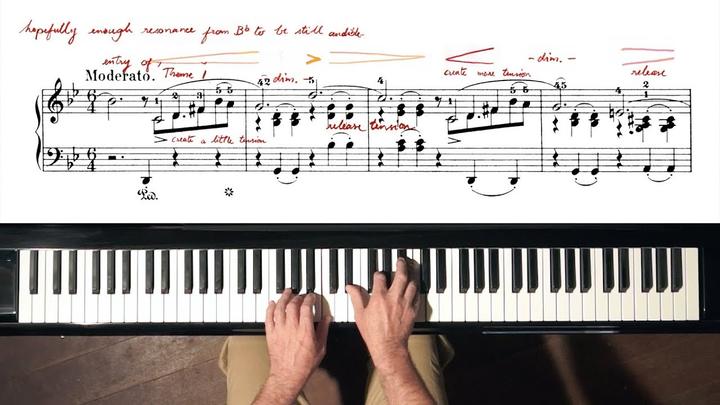 Experience is always similar when listening to Frederic Chopin's music: a sound is always gentle and intimate, despite sometimes hysterical too. This Polish compositor communicates with a listener in a specific confidential manner, and therefore one can see Chopin's individual way of thinking, speaking, and basically, expressing himself very clear. It's nervous, but somehow, relaxing music. Bright examples of this manner are the most narrative of Chopin's compositions, his Ballades. To my mind, Ballade No. 1 sounds like a Chopin's very intimate attempt to speak clearly on a dramatic, and finally, unsolved problem.
The Ballade starts with what sounds like several first clumsy words of a speaker. The speech's resolute, yet there's no audience to listen. This feeling of solitude firstly comes from a chordophone only sound: that single speaker is a piano. Secondly, those first "words" are conveyed by a low pitch. They sound full and resolute due to loudness of dynamic and long dramatic intervals. Along with overtones that imitate echo, a feeling of no audience's achieved. Then, phrase by phrase, "a speech" becomes more normal, logical as dynamic becomes softer, there're already shorter intervals, and feeling of description comes from a developing accompaniment (basically, chords). Yet a general nervousness stays in this section as well as during the whole Ballade.
To oppose the first melody, Chopin starts a new one in a second section (3:18) with a higher pitch ("Zimerman plays Chopin Ballade No. 1"). The second melody's dreamy, and it's developing brings a feeling like a compositor's dreaming or remembering some nice times. Sound becomes generally, more relaxing due to softness in dynamic; more water-like or misty due to vanishing intervals. There's a minimum of attacks, maximum of decays when performing the second section, but not for long. The first melody returns in the third section (4:20) bringing a feeling of screaming or at least, a loud dramatic, may be accusing, monolog again. This feeling comes from dominant dynamic loudness, from intervals between accompaniment and the melody, and dominant attacking style of performance, until suddenly, Chopin gets lost in his own images, and feelings in the forth section (5:23). Feeling of a noisy mess's achieved by a higher pitch and that now there're more sounds for each time with dominantly, a stable loudness and no intervals. The melody pumps up when the fifth section (6:13) starts. "Messy" sound becomes the accompaniment played with a softer dynamic while melody's pitch becomes higher, generally bringing a very ornamented melody sound.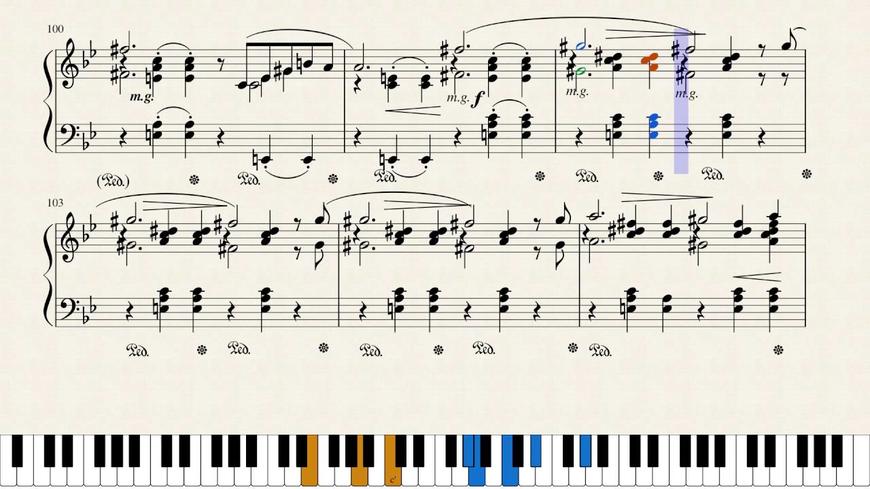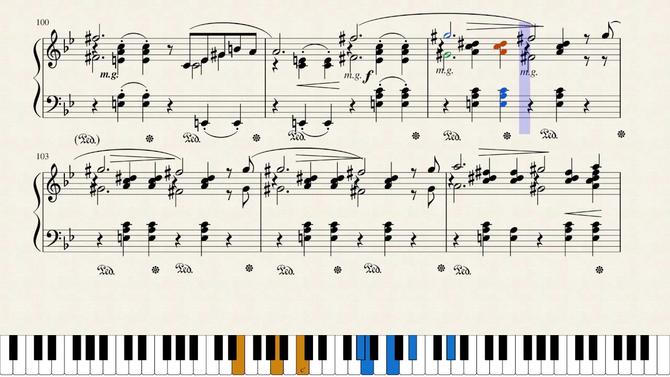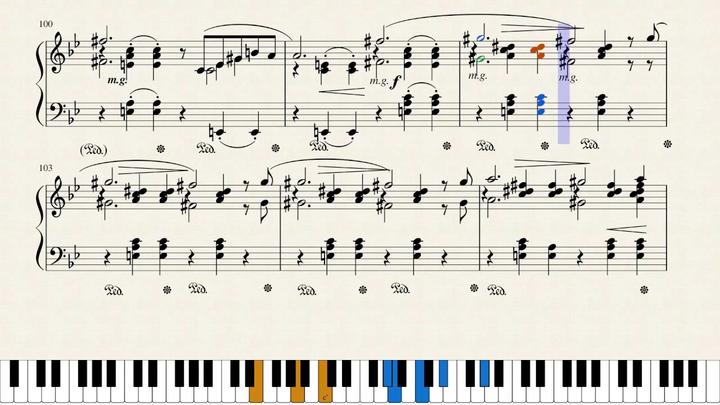 Yet the second melody cannot sound as dreamy as when it has been first introduced to a listener. Not after that existing controversy between two melodies in the Ballade. By section six (7:18) Chopin's dreams are broken. First melody comes back broken to become finale. The last part's also the most dramatic one. Dynamic has never been less stable, there're very long intervals between extremely low and extremely high pitches of phrases, sometimes dissonant. Ballade's final sounds like a hysteric until the very last "words" when Chopin employees the same mediums of expression used at the beginning of the Ballade, including attacking performance and loud sounds with long intervals, and overtones. Due to this dramatics, a listener's left with a controversial feeling disable to take away the pain.
According to Samson, a form of the composition helps Chopin to convey dramatics. Ballade No. 1 rests on a sonata from tradition, "where variations and transformations are seminal functions" for two themes with "contrasted rhythmic profile" (Samson, 8). This form was fully developed by compositors of the Classic era, and Samson points that despite in Ballade No. 1 Chopin makes his first steps away from post-classical music, there're still borrowings (Samson 2). There's statement of themes, a transformation of themes and resolution which are basic sonata form components (Bjorling 22). Yet Chopin's innovations are strong too. Romantic era's coming creating a fashion on intimate dramas, and "feeling the climate" Chopin's developing own view on Romanticism (Samson 4). It's firstly notable due to a ballade form. Chopin's ballades have "a peculiar form" and "Chopin's conception of the genre isn't easy to understand" because Chopin wasn't developing a romantic canon, but was discovering himself through the music (Parakilas xvii) (Samson 4). Therefore, there're several very different thoughts on Ballade No. 1's composition expressed by Parakilas, Buchan, Samson, and Rosen, and there's no agreement (Bjorling 25)
Attached file: Chopin Ballade No. 1 .doc
Click download to get access to a full version of the paper
Form of a ballade also explains a strong personal narrative Ballade No. 1 has. The composition feels like a speech because originally, "The genre is defined by the model of sung or poetic ballades which always stood behind the piano ballade", despite there's no such a direct relation in a texture (Parakilas xvii). In this way, a ballade form is a very narrative form: it implies a story to tell. Speaking specifically on Chopin's ballades, it's commonly hypothesized that they actually have a literary origin. When composing his own music, Chopin could be inspired by works of another Polish artist, a poet Adam Mickiewicz (Randel 75). Hunker questions this version, but also admits that there's a legend told in Ballade No. 1. "That Chopin had a program, a definite one, there can be no doubt; but he has, wise artist, left us no clue beyond Mickiewicz's poems" (Hunker 154).
Whatever's the case, this discussion points on how Polish are concerns expressed in the Ballade. Bjorling has studied Ballade No. 1 and has come with the hypothesis that Chopin's biography may reason the drama. Chopin composes the Ballade already in Vienna, later finishing it in Paris, therefore being far from home. Meanwhile, there's a war in Poland due to Russian aggression, and Chopin can neither return home nor even receive some news about his family which has stayed in Poland (Bjorling 45). Then, all the sense of solitude makes sense: Chopin's all alone in a strange land, nervous and disable to solve the conflict and again, be near those beloved. The first theme tells the listener about Chopin's struggle, his individual pain while the second theme of the Ballade conveys either Chopin's dreams on coming back home, or maybe expresses some happy memories. Sadly, but from the composer's biography, it's known that Chopin died on a strange land though desperately willing to return home.
In the light of the above described, I can conclude that a historical context I've discovered only brings more details to my general feelings from listening to Chopin's Ballade No. 1. There's truly some kind of problem which the composer firstly states, then develops, and finally, resolves (or in this case, doesn't resolve). Despite compositional technic of the Ballade is innovative, and therefore unclear, Chopin's clearly making a speech through a piano sound as there's original connection between a ballade form in literature, vocal and instrumental music. Finally, that problem Chopin's disable to solve is truly of some intimate kind. Whether it's reasoned by a general Romantic era's fashion on intimate dramas, or by actual biographical circumstances composer experiences, Chopin turns his pain into an aesthetic beauty.
Assignment: Subject: Pages:
| Deadline | School | College | Bachelor | Master | PhD | Specialized |
| --- | --- | --- | --- | --- | --- | --- |
| 24 hours | 10 | 10.4 | 10.9 | 11.8 | 15 | 20 |
| 30 hours | 9.8 | 10.19 | 10.68 | 11.56 | 14.7 | 19.6 |
| 36 hours | 9.6 | 9.98 | 10.46 | 11.33 | 14.4 | 19.2 |
| 40 hours | 9.4 | 9.78 | 10.25 | 11.09 | 14.1 | 18.8 |
| 2 days | 9 | 9.36 | 9.81 | 10.62 | 13.5 | 18 |
| 3 days | 8 | 8.32 | 8.72 | 9.44 | 12 | 16 |
| 4 days | 7 | 7.28 | 7.63 | 8.26 | 10.5 | 14 |
| 5 days | 6.4 | 6.66 | 6.98 | 7.55 | 9.6 | 12.8 |
| 6 days | 6 | 6.24 | 6.54 | 7.08 | 9 | 12 |
| 7 days | 5.8 | 6.03 | 6.32 | 6.84 | 8.7 | 11.6 |